Paving the Path: Robert W. Wright '68, MSF '82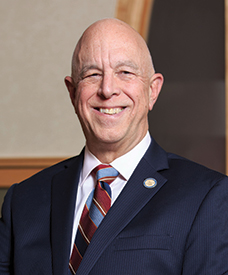 Born in Canada and raised in Boston, Rob Wright '68, MSF '82 learned Bentley would be right for him after a high school teacher made the recommendation. "I wasn't certain what I wanted to do until I took a bookkeeping class my senior year. Something clicked." His teacher knew just the place where Rob could excel.
"It was the first of many times in my career where someone helped pave a better path for me." 
Rob walked to and from Bentley's Boylston Street campus every day. "When I started at Bentley, I had no idea just how great it was going to be, and how meaningful — I fondly remember law classes with Greg Adamian, a wonderful instructor who made material relatable and applicable to the real world."
As Rob neared his graduation from Bentley, a partner from Touche Ross (now Deloitte) took a chance on him, offering an entry-level position. "I was not a 4.0 student by any means. I was a solid B," he remembers with a laugh. "But I guess he saw something in me."
Grateful for the professional opportunity, Rob did his share of weekend inventories and soon observed colleagues who were "married to the firm." He decided to work to live — not the other way around — and transitioned to a smaller firm, The Faxon Company, a subscription agency that managed periodical and magazine subscriptions for academic and corporate libraries. An avid sailor, he would have lunch on his Long Wharf-docked boat, or take it for a turn after work.
In the 1980s, Rob "returned" to Bentley's new location in Waltham to further develop his expertise, earning a master's degree. Having been involved with Bentley as a member of its Alumni Association Executive Board, Rob knew the quality of its graduate programs. "Bentley managed its academic growth carefully, retaining excellence and driving demand." Rob also enjoyed seeing the campus develop in "such a smart way, not overbuilding like some colleges."
Rob adds, "My graduate degree from Bentley was another step along my path that paid off — I'm sure it helped me obtain my next position, at Ropes & Gray." Currently, Rob is consulting, having founded Fenway Financial Consultants over 20 years ago to manage the accounting and human resource requirements of small companies that lack a CFO.
Rob is connected with Bentley to this day, having attended several campus events in recent years, and making annual gifts to the university. "My Bentley experiences were top-notch, and I credit Bentley for much of my success. That's why I am devoted to the school, and why I feel it's good to give something back." As Rob looked ahead, he knew he wanted to show his lasting gratitude for his Bentley education. He decided to include a generous gift for Bentley in his estate plan to support the university's mission of hiring exceptional faculty and attracting the most talented and committed students — a gift to help pave a better path for Bentley's future.