Helping Students Build Their Futures: Joanne Hofmann Sexeny '73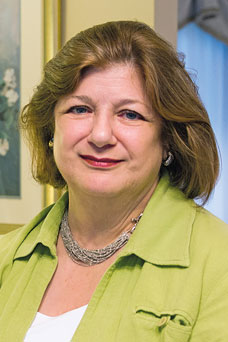 Business will always be in business. That's what Joanne Hofmann Sexeny '73 told herself when she considered transferring from UMass Boston to Bentley.
With 1960s protests and riots disrupting classroom time and her commute from Waltham, Joanne was going to school full-time and working full-time — every moment had to be worth the investment.
Bentley, she knew, would be worth it — so she made the switch.
She was responsible for paying her own tuition, so finances were a barrier; but, she says, "Bentley's financial aid office told me they'd do everything they could to keep me at school." With scholarships and loans, Joanne found a way. She filled her course schedule, taking six classes per semester plus summer courses, and graduated in just two and a half years.
She took the persistence that got her through Bentley and applied it to her career. After working in the accounting, insurance and banking fields, Joanne transitioned to real estate 25 years ago and currently is a real estate marketing consultant and broker associate for Leading Edge. She recently was appointed treasurer of The Winton Club, a volunteer fundraising arm of Lahey Health's Winchester Hospital. A former president of the Alumni Association, she received Bentley's Distinguished Alumni Award in 1998 for her commitment to Bentley and her professional achievements.
Reflecting on her pre-college years, Joanne says, "I should not be where I am today." Her mother was a single parent; her two older sisters married in their teens and had children shortly thereafter. Even Joanne's high school guidance counselor told her she wasn't college material. "I thought I had no future."
But Joanne built her future from the ground up — and she's still looking forward, by including a Bentley scholarship fund in her estate plan. "If it were not for the financial help I received from Bentley, I would not have stayed in school," she says.
"Nothing happens unless you make it happen," Joanne adds. "I'm proud to make this scholarship fund happen for the future of Bentley."