Inspiring a Family Legacy: Douglas J. Bailey '40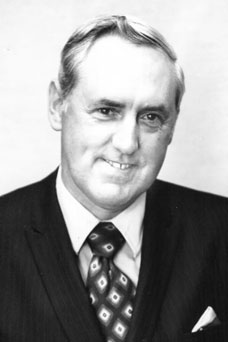 Like many young men of his generation, Douglas J. Bailey '40 was drafted into the U.S. Army in 1941. After boot camp and basic training at Fort Bragg, Doug saw most of his fellow soldiers deploy to Europe or North Africa, but a chance assignment to Bermuda changed the course of his life.
As an MP originally assigned to break up bar brawls, he was redirected to the nine-outpost PX system to serve as accountant after his sergeant learned that he had been educated at Bentley. Doug served the duration of the war at the PX, putting to good use the business skills he had received at Bentley.
For the rest of his days, which included working in accounting at Goodyear Tire & Rubber and as a nationally recognized sales consultant for Guardian Life Insurance, Doug would credit his Bentley education with perhaps saving his life — and most certainly changing it for the better. It was in Bermuda, after all, where he met his wife Elsie.
When he was discharged in 1945, he brought Elsie home to Massachusetts — where they raised their two daughters, Suzanne and Pam. "He said he owed so much to Bentley, and he wanted to help others attend the school he was so proud of," recalls Suzanne. In 2008, Doug established an endowed scholarship in his and Elsie's names.
After their parents' deaths, Pam and Suzanne decided to continue their dad's legacy with funds that he had set aside through his estate for charitable purposes. They have since made generous additions to the Douglas and Elsie Bailey Scholarship Fund and enjoy hearing from students, knowing that this special legacy in memory of their parents will continue to help other students attend Bentley for years to come.